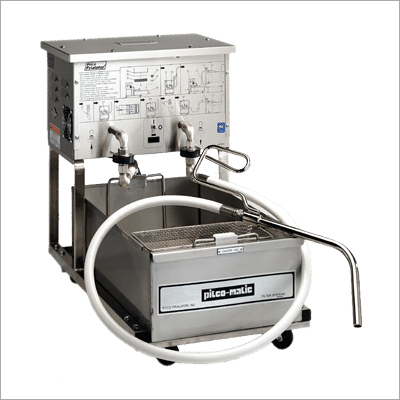 Product Description
Pitco RP14 55 lb. Portable Fryer Oil Filter Machine with Reversible Pump - 120V

Details


Increase both the shortening life and quality of your oil with the Pitco RP14 portable filter system with a reversible pump. This easy-to-use and easy-to-store mobile item removes crumbs and sediment from the oil that, if ignored, can cause flavor transfer and a quicker breakdown of the shortening. The extra large filter area boasts a shortening capacity of 55 lb. and thanks to its low profile design, fits effortlessly under most fryer drains. With a reversible pump, this unit will draw oil from one direction out of the fryer and then recycle freshly filtered oil back into the fryer for increased efficiency. If your fryer doesn't have a built-in filtration system, this unit is the perfect way to get the same great benefits without purchasing a whole new fryer!


Place this portable filter machine under your fryer drain, allowing the used oil to flow through the included crumb catching basket to remove any large debris or food scraps. As the oil drains, it will collect on top of the flat filter paper (sold separately) in the filter pan, which has a maximum capacity of 55 lb. From there, place the return hose nozzle in your fryer, turn on the 1/3 hp pump, and run the oil through your fryer a few times, keeping the drain open. If the nozzle clogs, place the pump switch in the filter position. The reversible pump will switch the oil flow and should clear the clog. Then, a 5' high-temperature return hose pushes the freshly filtered oil back into the fryer. It's that simple! Plus, this unit's quick disconnects make it easy to set up and tear down the system when it's time to filter your fryer, and its pump rate of 5 gallons per minute makes the whole process more efficient.


This Pitco portable filter system with a reversible pump is essential for commercial fryers within any diner, bar, or cafe. The on and off switch is located on the back of the unit to protect the user, while a combination of stainless steel and sturdy nickel-plated construction provides long-lasting use. Plus, the filter pan and media assembly quickly lift out for easy cleaning. Other features include 1 sediment clean out scoop to be used after the filtration process is complete, four swivel casters for easy mobility, and a hose assembly for easy shortening disposal.


Overall Dimensions:


Width: 17"
Depth: 30"
Height: 24"
Capacity: 55 lb.
Other Products in 'Cooking Equipment' category
Get in touch with us