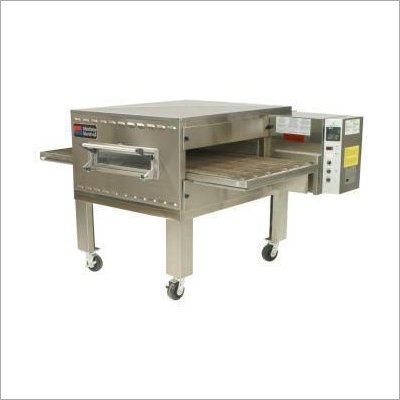 Product Description
General Information


The PS540 conveyor oven is ideally suited for medium-duty restaurant needs. The oven can cook a wide variety of food products, including pizza, seafood and bagels.


Standard Features


Impingement PLUS! low oven profile and dual air return
Patented EMS Energy Management System* reduces gas consumption and increases cooking efficiency
40-1/2 (1029mm) long cooking chamber
32 (813mm) wide, 76-1/2 (1943mm) long conveyor belt
Patented Jet Sweep impingement process that delivers constant heat to the chamber
Stackable up to three units high
Microprocessor-controlled bake time/conveyor speed
Customer-specific adjustable jet fingers that allow control of heating delivery
Stainless steel front, sides, top and interior
Front-loading window with cool handle
Reversible conveyor direction


Optional Features
Split belt - two 15 (381mm) belts with individually adjustable speed settings
High speed conveyor (Range of 1:00 - 10:00)
Adjustable legs (replace casters)
Stainless steel lower shelf on double and triple oven
Conserves Energy: Unit incorporates a patented Energy Management System - EMS. Middleby ovens provide very efficient heat transfer to product. Energy is conserved as air is recycled from heater to product, with minimum loss. Oven is cool to the touch.
Cleanability: PS540 Ovens are designed for easy cleaning. Removable parts include: crumb pans, end panels, air fingers, exit tray, and a removable conveyor belt assembly.
Easily Services: Control compartment is designed for quick and easy access.
Warranty: All PS540 models have a one year parts and labor warranty.
Ventilation: Use of a ventilation hood is required.
Photos show ovens equipped with casters. Some installation codes require the use of adjustable feet instead of casters.
Other Products in 'Cooking Equipment' category
Get in touch with us