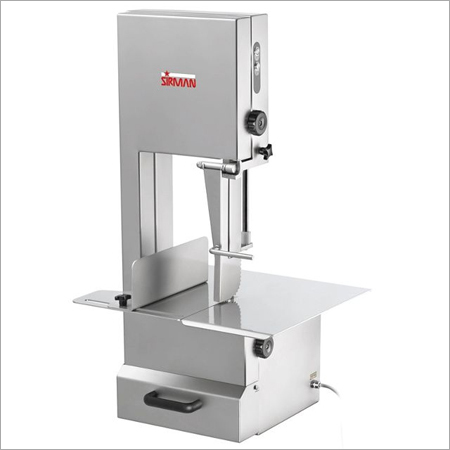 Product Description
Sirman - Bone Saw Machine


With help of our enterprising experts we as a prominent exporter, importer, importer and supplier are offering Sirman - Bone Saw Machine to our customers. This item is appropriate in sustenance preparing market. It is made for cutting and solidifying meat and also bones in little pieces. It is noted for its high proficiency, less vitality utilization and simple operation. It makes the work procedure less demanding and is able for solidifying meat and fish separated from poultry. Purging ought to be done frequently to guarantee that it stays in top condition for long day and age. The quality controllers contracted for this reason do thorough examination of the whole array of Sirman - Bone Saw Machine before conveying in the business sector.
Features:
Free from defects
Insignificant support
High effectiveness
Great surface

Description of product
Made out of stainless steel AISI 304.
Interlocked bone chip tray accessible from outside.
The door can be easily removed for smoother cleaning tasks.
Calibrated pulleys built out of polished aluminium.
Airtight bearings on upper pulley.
Powerful asynchronous and ventilated motors protected by sealing oil sump.
24V controls with safety micro-switch on door and tray, redundant ECU and motor brake (EC).
Quick upper pulley releasing mechanism that makes it easier to clean and change the blade.
Easily removable and replaceable scrapers.
Single-phase motors with heat guard (standard feature).
Can be cleaned with a water spray (no high pressure).
Controls in stainless steel class IP 67.
The machines use tempered 16 mm blades to shred bone, frozen or fresh.
Other Products in 'Pre-Preparation Equipment' category
Get in touch with us